Self-Guided Picnic For Two
Picnic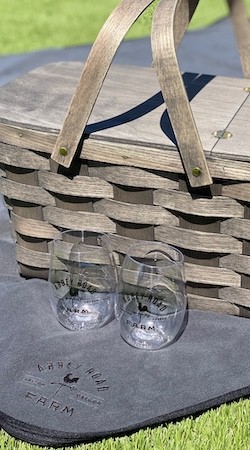 Self-Guided Picnic Lunch For Two
We prepare a custom picnic basket complete with a blanket, two GoVino glasses, and your choice of sandwiches from The Horse Radish in Carlton. We will provide a walking tour map of the property so you can go out and find the perfect spot to set up and enjoy! Just add a bottle of wine (not included).
Sandwich Choices:
Ham: Carlton Farms Smoked Ham, Swiss, Mayo, & Fig Sauce on Ciabatta
Turkey:House Roasted Turkey Breast, Pesto Mayo, Provolone, Lettuce & Tomato on Sourdough
Italian: Sopressata, Genoa, Ham, Hot Coppa, Provolone, Mama Lil's Spicy Peppers, Lettuce and Italian Dressing on Baguette
Veggie: Seasonal Roasted Veggie, Hummus, Pickled Onions, Lettuce, Tomato, and Mama Lil's Spicy Peppers on Wheat.
Note: orders must be place a minimum of 24 hours in advance. Please let us know your sandwich (2) in the notes at checkout.